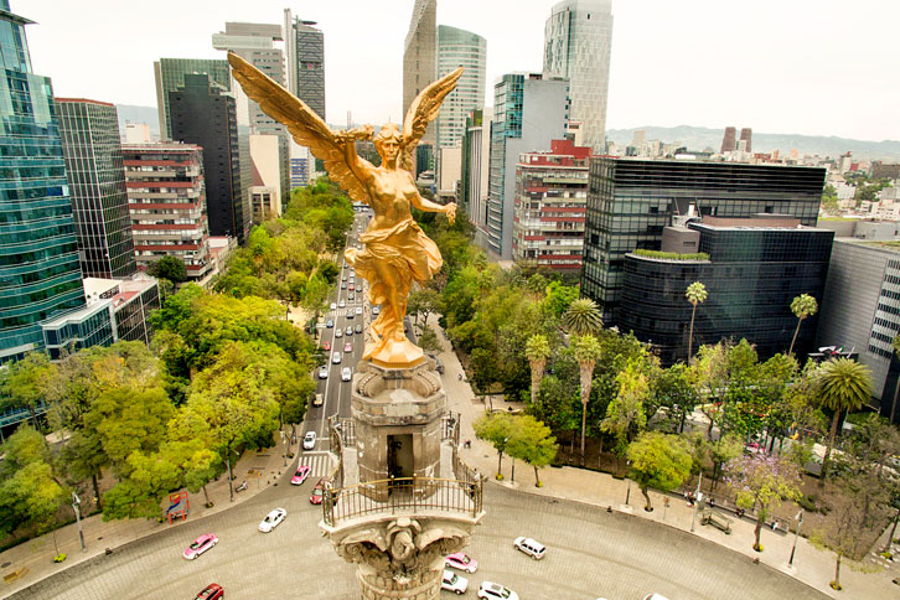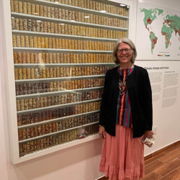 Mexico City! Experience This "Oasis" In The Big City!
Mexico City, DF, Mexico
Two-bedroom apartment with roof-top terrace in small, new building with nine apartments.  24-hour guard and outside door locked, keypad access.  Garage under the building.  One parking spot can be made available for your car, should you drive here.  Located in Barrio de San Juan, Benito Juarez, just west of Del Valle and south of Condesa/Roma.  Only two block walk to Parque Hundido, where we take the dogs every day.

Three floors, including the terrace.  Walk up two flights of interior stairway to reach apartment's first floor, which includes an all-new, modern kitchen with attached service room including washing machine, and a large, open dining- and living-room.  No TV, but great WIFI internet connection. Second floor includes two bedrooms and an open office room with a skylight.  There are four bathrooms!  One on the first floor, two on the second floor, each connected to a bedroom, and even a toilet plus storage space off the terrace.

The pets include three neutered female, scruffy street dogs, plus a neutered male cat, who grew up with the dogs, so everyone mostly gets along.  The older dog, with red coat, is named "Pem" (she was found in a Pemex station).  The two younger dogs are both black--one is quite small and fluffy, called "Delfina" (she was found under a campaign sign for Delfina Gomez) and the second is medium-sized with white splotches, named "Louise"--she was found with another dog, so they were named "Thelma and Louise". "Thelma" moved to the US, and lives with my daughter.

As you will see in the pictures, when I walk them, I put the two younger dogs on a two-headed leash, and let Pem have her own leash.  She is usually toddling along behind, smelling everything.  There is a fenced-in dog park inside the Parque Hundido, and, once there, I let them off the leashes so they can run around and interact with the many other dogs from the surrounding neighborhoods.  I moved to this house in December 2018, without much furniture.  I am slowly adding pieces, and also still hanging pictures.  I love the light in this apartment, and spend a lot of time on the terrace.  It's a real oasis in the middle of the big city for me.  You can easily walk to supermarkets, restaurants and stores.  The immediate neighborhood feels like a small town, with a central plaza and with its own small church.
Responsibilities
1. Feed the dogs once a day, plus ocasional treats.

2. Walk the dogs at least once a day, disposing feces in plastic bags (provided) in any of the many garbage bins in the park.

3. Feed the cat when he's hungry.

4. Clean out the litter box every day.

5. Make sure everybody has water.

6. Keep the house in order, do all dishes, take the garbage downstairs to the communal garbage disposal area.

7. A cleaning lady comes once a week, on Wednesdays, and does a top to bottom clean.  If she has time, she will also iron clothes.  It's easiest to be out of the house while she is working, and it helps her to get the cleaning done if you don't leave clutter around.  I will leave envelopes with her pay for you to give her.

8. The dogs spend the day when they are home alone, on the terrace.  If they have to go to the bathroom, there are two places where they go--on a "sanitary carpet" (basically a square of plastic astroturf in a tray) or in a low, narrow planter that is filled with leaves.  Once a week, it is a good idea to wash off the "sanitary carpet" and the surrounding floor area.  I have a power washer for this and can show you how to do it.  These two areas are conveniently close to a bathroom, making it easy to drop feces in the toilet and flush.

9. Staying in the house every night is required.  The dogs have become accustomed to spending most of the day on the terrace while I am at work.  However, they have never been left overnight on the terrace.  The cat is allowed outside on the terrace only when people are home and he can get back into the house.  He is never locked out of the apartment and left with the dogs on the terrace during the day.  He stays in the house.
Photos
(Click an image to enlarge it)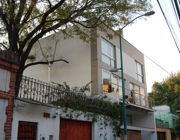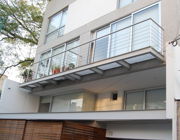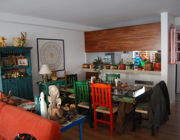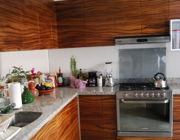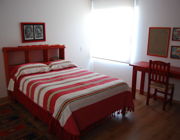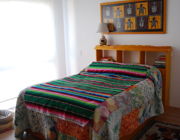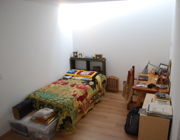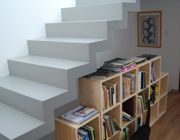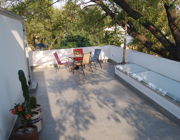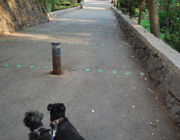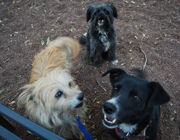 Additional Information
The house is not located in a "trendy" or "touristy"part of the city, such as Roma/Condesa.  I rarely see any foreigners around. It's a middle class neighborhood with lots of families and dog lovers!  At Parque Hundido you see lots of people exercizing, running, or strolling with family and friends.  On weekends, there are groups of scouts playing games and birthday parties (complete with pinata hung in a tree).  However, it's easy to get to the main attractions of the city via subway or metrobus, taxi or Uber.  The closest metro stop, a five minute walk from the house, is Mixcoac.  The closest Metrobus stop is "Parque Hundido" about a ten minute walk from the house.  That line runs the length of Insurgentes.

To the Zocalo, Mexico City's Historic Center, it is 12 km or a 22 minute drive.  Since the house is located in the southern part of the city, it is only 4.8 km, or a 10-minute drive, to Frida Kahlo's home, Casa Azul, in Coyoacan.
Location of town indicated on listing
Photos
(Click an image to enlarge it)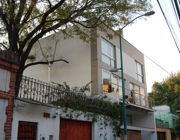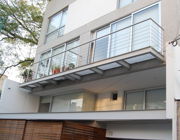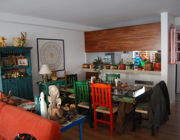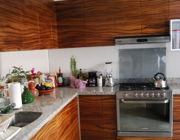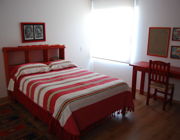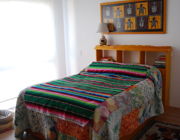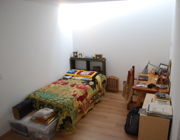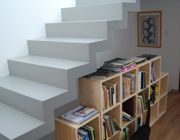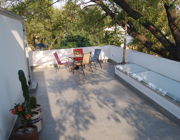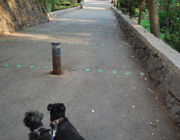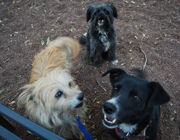 Already a member? Please Log In!
Or Become a Member to see the full listing — and apply!